Stop feeling out of balance and get inspired!
Life can be tricky sometimes – it's easy to get off balance, loose yourself, disconnect with who you really are and what you need. Fortunately the remedy is so simple and beautiful – we all need love, space for expression and freedom. Oh, yes – and a kind guide who will show us the way when we are lost.
I'm so happy to present the next medRebelTV episode featuring interview with TARA STILES on beauty, freedom and 'all that jazz'.
watch below
I had the privilege to meet Tara – amazing Yoga Rebel. She is the pure warmth and inspiration, which so many of us seek.
After being a part of Strala Universe for the last couple of days, I feel relaxed, connected and convinced that my GPS is showing the right direction. She reminded me of one, so crucial, emotion – EASE. There is nothing more needed in everyday life that ease. If you don't know Strala Yoga yet – I highly recommend to check it out. It's a system of movement that empowers to connect with yourself and make your own rules.
Get inspired and be a spacemaker. Make the space for yourself every single day!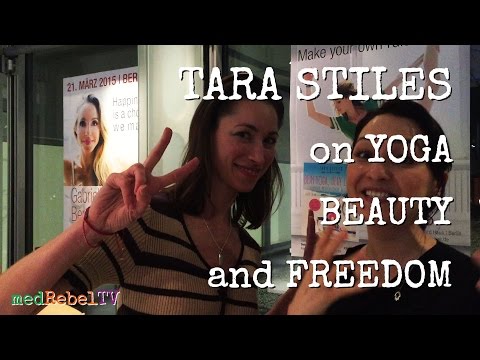 Tara Stiles on yoga, beauty and freedom - medRebelTV interview
https://www.youtube.com/watch?v=SQsagT_2kaw
Ps. How do YOU find ease in life? Share your strategies below and inspire others!
Thank you so much for watching, sharing & most of all - YOUR COURAGE TO HAVE HEALTHY, VIBRANT, BEAUTIFUL LIFE!